Hutten Metaal Staalbouw
Based in Hardenberg (the Netherlands), Hutten Metaal Staalbouw has been producing complex steel constructions for many years. All employees, working in the 11,000 m2 production area, are aiming for delivering high quality products every day. Hutten Metaal Staalbouw has been using ConstruSteel's software solutions since 2008 in order to work more efficiently. With the Advanced Scribing for Tekla solution, benefits in the production process are gained rather easily. As a result of the strong focus on the steel fabrication industry, ConstruSteel's software solutions are a perfect fit with the business operations of the steel fabricator from Hardenberg.
Advanced Scribing reduces our failure costs.
Quality and efficiency
Every day, all employees working at Hutten Metaal Staalbouw work on optimising the steel fabrication process. Due to the increasing shortage of craftsmen, the company wants to resilient and futureproof.
Dennis Zijlstra (Production Manager at Hutten Metaal Staalbouw) explains: "With our scribing / marking machine, all preparations for the assembler (lay-out marking or scratching) are done automatically. With ConstruSteel's Advanced Scribing for Tekla solution, the machine runs at its most efficient. It's a must have for every steel fabricator as the solution pays back itself."
Faster and more accurate assembly without errors
Due to production growth, the steel construction company is looking for smart ways to produce efficiently. "Manual layout marking, checking and recovery work causes delay in the process. The margin of error is now significantly lower," says Zijlstra. With Advanced Scribing for Tekla scribing information can be given during the engineering and will be processed by the scribing machine. "Even if a marking line has been forgotten during the engineering, the assembler can continue his work because of all other scribing information on the beam. This really saves a lot of time."
"Our craftsmen at the workshop are very satisfied with scribing on profiles. A student assembler can use the ConstruSteel solution to assemble the more complex assemblies more easily," says Zijlstra. Hutten Metaal Staalbouw is happy with the result: assemblies are made faster and more accurately while the failure costs are reduced.
Advanced Scribing for Tekla offers more possibilities
The previous scribing solution used by Hutten Metaal Staalbouw did not offer enough flexibility. Scribing could only be indicated on main parts, there was no choice to scribe whole or partial contours and profiles could not be rotated. "We therefore opted for the ConstruSteel solution. Because of the strong focus on steel fabrication, they are the software expert in the steel construction industry. ConstruSteel continues to develop products, including the solution for scribing. In this way we are assured of a good solution that will only get better over the next years."
Introduction new working method
Scribing with ConstruSteel's Advanced Scribing for Tekla took a short period of getting used to for both engineering and workshop during the start-up period. Now that fixed scribing settings have been determined per steel profile, everyone knows exactly what needs to be done. "The process has become significantly more efficient," Zijlstra says.
With ConstruSteel into the future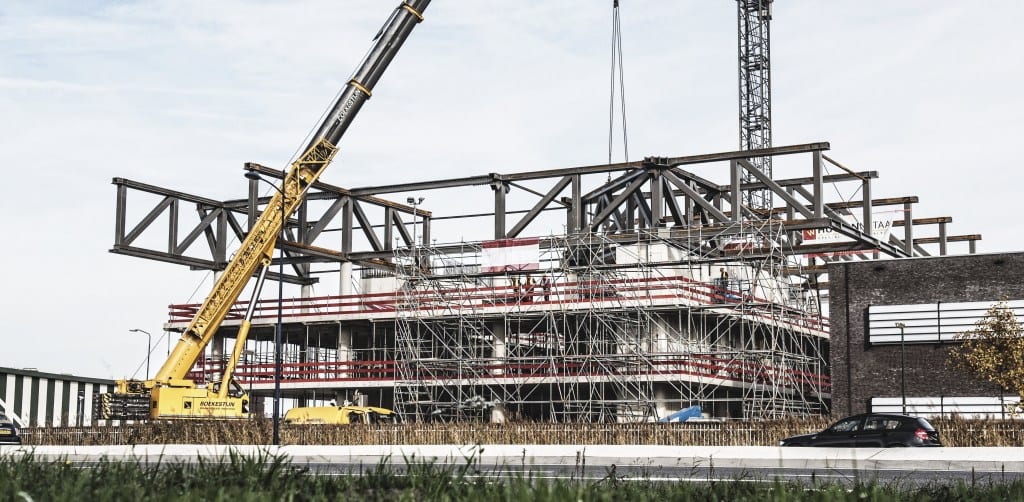 Hutten Metaal Staalbouw is pleased with the ConstruSteel solutions. "In the beginning, colleagues were somewhat hesitant, because our old working method worked well for us in the past years. Now we are optimising our process, nodody wants to go back to our old working methods. I expect to implement more and more of ConstruSteel in our process. They 'speak our language', are the expert in steel fabrication automation and continu to develop. This way we are assured of software that grows with us, even in the future ", concludes Zijlstra.
---
Hutten Metaal Staalbouw
Hutten Metaal Staalbouw, founded in 1974, is a family company specialised in complex steel construction constructions. Based in Hardenberg, they have a production capacity of 10,000 tonnes of steel per year and a production area of 11,000 m². Activities of Hutten Metaal Staalbouw focus on design, static calculations, workshop drawings, production, assembly and erection of steel constructions. The steel fabricator also supplies roof and wall cladding, stairs and fencing.
Company details
Noorwegenweg 1
7772 TA Hardenberg (NLD)
Telefoon: +31 (0)523 – 25 17 15
info@huttenmetaal.nl
www.huttenmetaal.nl